WEST MEADE CONSERVANCY ADVANCES IN PROTECTING WOODS, PLANTATION ROCK WALL
The News
August 24, 2006
By Brenda Batey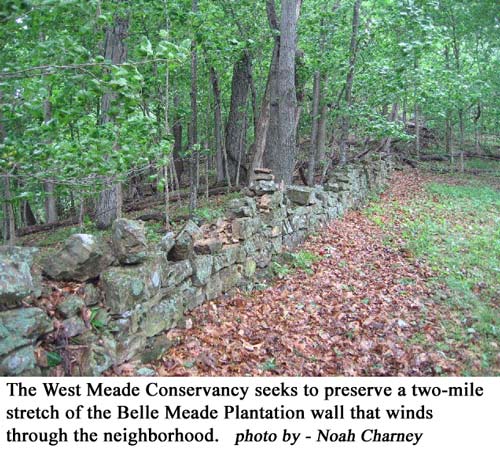 In the four months since it was formed, the West Meade Conservancy has made considerable progress with its goal of preserving the woods, wildlife and the Belle Meade plantation wall in West Meade.
The Organization has filed a charter with the state and has begun to establish a landowner registry of people willing to put conservation easements on their land.
The neighborhood seeks to retain a unique area of old-growth forest with huge chestnut oaks, a waterfall, endangered wildflowers, woodland creatures and historical relics that is valuable in a big city, which needs a variety of environments, according to Alys Venable, one of the group's organizers.
To accomplish this, the association is working on educating residents and enlisting their help, as well as seeking the assistance of developers in protecting the forests and wall on their portions of the land.
A meeting is being organized by Ann Roberts, executive director of the Metro Historical Commission, between West Meade Conservancy representatives and officials of several conservation agencies. The event, to be presided over by the newly-elected Metro Councilwoman for the area, Emily Evans, will be hosted by Belle Meade Plantation.
Of the conservancy, Roberts said, "I don't know of another area in Nashville that has taken this approach--self educating, grassroots--to look after its natural resources."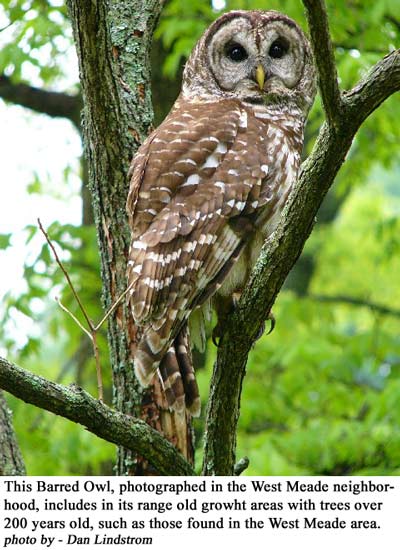 The conservancy was formed last April when Noah Charney, a graduate student in biology at the University of Massachusetts, distributed flyer pointing out the natural riches of the area and the threats to them. Charney invited neighbors to a meeting on Earth Day to discuss ways of preserving the woods, and about sixty interested people attended.
Charney said that he wanted people in the neighborhood to know what a treasure they have. The forest composition in West Meade includes a wide diversity of flora and fauna. In addition, a two-mile stretch of the Belle Meade Plantation wall from the 1800's winds through the neighborhood and remains a significant artifact of Nashville's history.
Organization members plan to participate in one of the Dry Stone Conservancy's workshops as preparation for rebuilding parts of the wall in West Meade.
"To preserve the character of our neighborhood, it is our hope that residents will use a conservation easement to designate a section of their land as a nature preserve," said Charney. "This would typically be the back piece of property that is entirely forested, high up a steep slope and seldom used by people."
"At this point the conservancy is asking residents to fill out non-binding 'Landowner Registration Forms' as a prelude to setting up the conservation easements," Venable said. The leaders of the group want to determine how many in the neighborhood are interested in preserving the forests in this manner. According to her, eight residents already have turned in signed forms, seven others are actively working on them, and many more residents have requested the paperwork.
"A conservation easement is a tool that landowners can use to protect their own land, and if enough people choose to establish conservation easements on portions of their land, the result will be a large, contiguous are of permanently protected forest surrounding the neighborhood. This will prevent potential future development from radically altering this tract of land," said Charney.
"To establish a conservation easement on your property, you donate some of the development rights on the land to a private non-profit organization. You retain full ownership of the land, but you agree to preserve a portion of your land in its natural state. This agreement is legally binding and permanently affixed to the land even as it is transferred to future owners. In creating conservation easements, the landowners may tailor the restrictions to meet their particular concern," he added.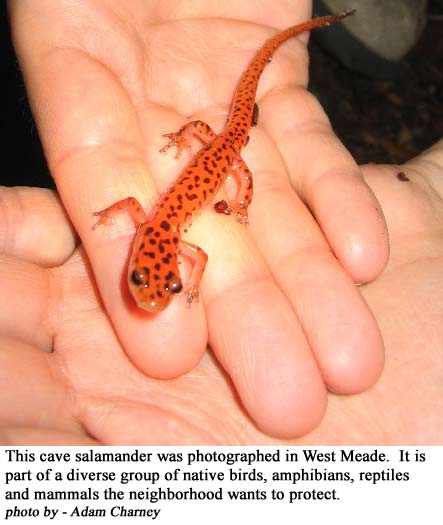 Charney, who grew up in West Meade and roamed the woods as a boy, says he wants neighbors to realize how special the area is and what could be lost.
"At the bottom of the hills, next to the creeks, grow great sweet gums and sycamores," Charney said. "You will find Jack in the Pulpits, wood nettle, jewelweed and a large diversity of other plants that enjoy the moist soil.
"Uphill from the creeks, our giant tulip trees grow well over 100 feet straight up. The understory at this height is replete with spicebush and paw-paws. Other common trees include persimmon, sassafras, beech and sugar maple. As you walk further up the hills, you will find increasing numbers of hickories and oaks, such as shagbark hickory, mockernut hickory, white oak and red oak.
"At the top of the hills are the chestnut oak forests. WE believe these to be the oldest communities, with many trees well in excess of 200 years old. The typical trunk diameter-at-breast height of the dominant chestnut oaks is two to three feet," Charney said. "One chestnut oak is over three feet in diameter and we know that the tree was growing at least as far back in time as the 1700s, before our constitution was written, and maybe as far back as the 1600's. And in our woods, this tree is not unique."
For more information, visit www.westmeadeconservancy.org. email westmeade@gmail.com, or call Alys Venable at 356-2423 or Anne Williams at 352-0412.